Get FREE Tips to Create A Fabulous Life You Love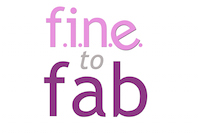 We are dedicated to helping you breakthrough the challenges that are weighing you down without years of shame, blame or therapy so you can live an authentic life now that is happy, healthy & free!

Take the first step towards an authentic life today
by signing up for your first free FINE to FAB consultation now
With the FINE to FAB transformational program, you are empowered to:
Love yourself for who you are
Overcome and breakthrough your emotional blocks
Identify your self-sabotaging habits and triggers
Stop hurting yourself with food, alcohol, spending or abusive relationships for good
Gain lasting, deep self-confidence
Increase your financial blueprint & your relationship with money
Know you are already enough
So you can live an authentic life… happier, healthier and free!
If you are like many women, you have already tried every "self-help" remedy out there and still feel like something is missing.

You may be successful in everyone else's eyes, but don't feel worthy inside. You may feel that you are alone in this struggle or that no other women struggle with their self-esteem like you do.
You need to know that this is a lie!

So many of us struggle alone with our past traumas and feelings of inadequacy and doubt. When we feel that we are not enough, we turn to food, drinking, depression, shopping, work, sex and many other escapes to try to fill a void we have inside. However, we quickly realize that nothing can fill this void of not feeling worthy or enough.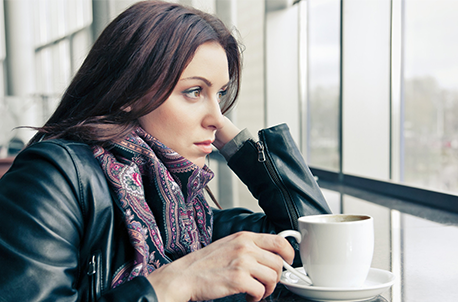 FINE to FAB offers Transformational Programs that help empower you to Live an Authentic Life that is Happy, Healthy & Free without years of shame, blame or therapy! It is a proven process that gives you the practical tools you need to let go of these self-sabotaging habits and breakthrough those feelings that you are not enough to find that you have limitless potential for happiness and love. The process is known for its success that over half of all FINE to FAB clients are directly referred to us from doctors and healthcare professionals. Get started on yourself now.
Find the Root of your Emotional pain and GET RID OF IT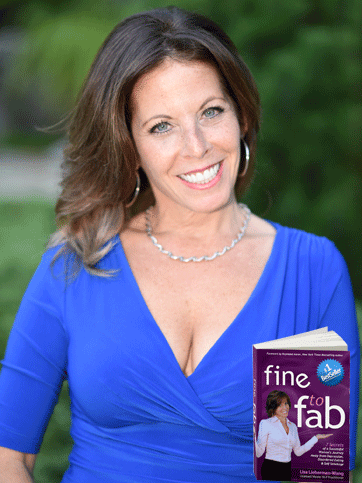 As a survivor of depression, compulsive overeating, binge eating, bulimia, emotional and sexual abuse, Lisa Lieberman-Wang has experience struggling firsthand. She never felt worthy or good enough in anything she did. For years, Lisa replaced one bad habit with another all while searching for more through therapy and hundreds of thousands of dollars invested in self-help books, classes and seminars. She eventually came to realize that many of the so-called coaches out there did not have the answers, despite claims otherwise. Even therapy with some of the best psychologists simply re-opened old wounds week after week, until she felt worn raw.

Lisa decided that there had to be a better way. Twenty years ago she developed the FINE to FAB process of going from feeling F.I.N.E. (F'd Up, Insecure, Neurotic and Emotional) to being F.A.B. (Fabulous, Awesome, Beautiful) without blame, shame, or years of therapy. The process is based on the best strategies that she learned and used it to heal herself.

With the creation of the 7 Secrets to FAB and a supportive network of women experiencing the same struggles. Lisa discovered what it meant to truly feel fulfilled.

Since that time, she has dedicated her life to helping other women find that same inner peace, happiness and freedom by sharing this process. When you dedicate yourself to becoming FAB, you have the opportunity to finally root out the source of your unhappiness and get rid of it.
THIS IS YOUR TIME TO START LIVING
HAPPY, HEALTHY, AND FREE NOW
Just like we program computers to do certain tasks, we program our brains to think certain ways. We develop our values and our habits at a very young age. By the time we really figure out what we need and what we want out of life, we have already been wired to try and get happiness in very difficult ways. FINE to FAB trainings help us to "reboot" and "reprogram" our ways of thinking so that we can break self-sabotaging patterns using Neuro Associative Programming (NAP).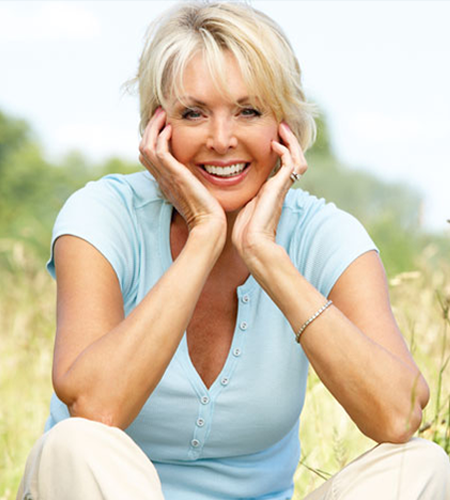 FINE to FAB uses the teachings of world-renowned thought leaders: doctors, psychologist, hypnosis and trainers related to neuro-sciences and behavioral programming to help youconsciously change the neurological processes by which you make decisions.

FINE to FAB will change the language you use to communicate and talk about yourself. And you will have the tools to change the behavioral patterns you have learned through your years of experiences.

All these tools will shift your self-perceptions giving you the opportunity to discover who you are. These tools will enable you to achieve specific goals in life.

Unlike many practitioners and coaches who use outdated methodologies in an attempt to create change, Lisa Lieberman-Wang is a the creator of the cutting edge neuroscience: Neuro Associative Programming "NAP". She created FINE to FAB for you to heal in a short period of time, avoiding years of therapy. She uses a proven model to breakthrough whatever is weighing you down.

Her unique team approach speeds up your thought transformation. You will overcome your emotional blocks and gain true self-confidence in just 10 weeks plus an intensive transformational weekend.
YOU NEVER HAVE TO FEEL LIKE
YOU ARE STRUGGLING ALONE AGAIN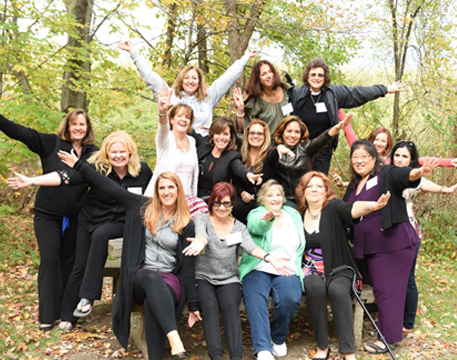 A key aspect of the FINE to FAB process is the team approach. Not only will you work one-on-one with a breakthrough expert to identify your personal triggers and root out some of your emotional baggage, but you will also be helped by a team of experienced professionals to succeed in every part of your life. You will have the opportunity to work with nutritionists, relationship experts, business specialists, communication experts, and other professionals who can support your particular struggles.

You will also be joined by other women who are on the same journey of transformation in weekly support groups. You can share your struggles and successes with women similarly dedicated to ending self-sabotage. Not only will you learn from each others experiences, but you will also be supported throughout the entire process. You will not have to struggle through this challenging time by yourself, as you will be continuously surrounded by like-minded friends.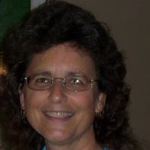 Carol Garreston

Fine to Fab has given me my life back! I really did suffer from stinkin' thinkin'! Years of feeling lost, no self-worth, lack of confidence, lonely, and depressed at times. F2F has given me tools to use, along with support, guidance, patience, love, and accountability. I've met some fascinating new friends on this extraordinary journey. I can't imagine my life without my FAB sisters in it! Any woman living and breathing needs to enroll in F2F! It will enrich your life, your relationships, and most importantly your confidence and sense of accomplishment! Lisa is absolutely brilliant! I trust her and know she has my best interest at heart. I can't say enough about F2F, it's enriched my life forever!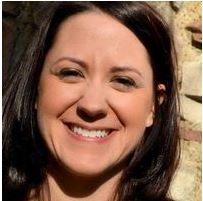 Sarah Dawe

From an early age, I began searching for "more" I always knew I wanted "more" but I wasn't sure what "more" was, or how to achieve it! I learned more about myself and my path spending an hour with Lisa than I did spending over 2 years with a therapist. Lisa's program was not only an eye and heart-opener, but the best word I can use to describe it is a metamorphosis. I went into the program feeling like a straggly caterpillar and came out realizing what an amazing butterfly I have become! Stop settling for less and know you deserve the best!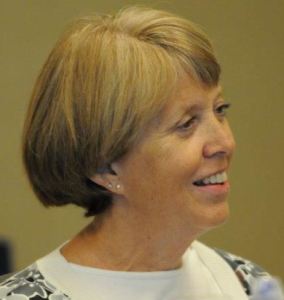 Gayle Elder

To any woman (or man) that has ever questioned their life; fine to FAB is the awakening, awareness and emotional connector to empower you to address those questions with true answers, real (easy) change, and zero blame. It's a road map to success, discovery of where true love comes from, and the individual's toolbox to happiness in whatever challenge(s) you face or don't even know you have…THIS WORKS, and people will wonder why you're smiling, constantly!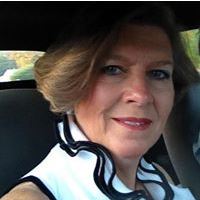 Atha T White, ND MH CPTM

One of the things that I have found in this course is understanding stories and how we live in them. It's really moved me into a place where I don't react based on my story but I respond based on the truth of what's going on in the situation. I've gained focus about where I want to go and how I want to get there. It's amazing. I would recommend this for anyone who is looking for a breakthrough. That's what I came to find was a breakthrough. And I think I've found that door opened where all I have to do is just walk through it and do the things that I have learned. I absolutely would recommend fine to FAB to any woman who is looking to be who she is supposed to be.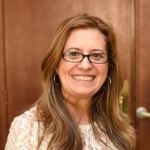 Yudy Veras Bueno

I didn't think I needed the program personally. I felt blessed. From time to time I would feel deeply sad and a pervasive feeling of emptiness. But I thought it was "normal". I started the program because of challenges with my teenage daughter. What I discovered radically transformed my life. Fine to Fab took me through a self-discovered journey. I'm happier, healthier (lost 38 pounds, I had health issues, eating disorder, high cholesterol and serious migraine). Fine to Fab not only improved my personal life but my career, finance, and interpersonal relationships. Lisa came to my life when I needed the most. She gave me back hope and tools to apply in real life. She is a miracle… My miracle!

Anne-Marie Gunthrie

Carrying your past around with you in the form of extra weight? Were you once an outgoing, successful, fun loving person? Then, after some bumps in the road now find yourself sinking deeper and deeper down a hole, only to bury yourself with food. With Lisa's help and the "fine to FAB" program it is possible to stop this pattern and free yourself from your past and the food. Once you start to go through the process you'll find that all aspects of your life will improve, and not just your waistline.

Linda Trudden

Lisa you are brilliant! We miss so much of our lives picking on ourselves leading to self-sabotage, WOW! Now I know! What a different life I am living! Thank you! We women want to live and love, but some how we mess ourselves up.The fog has lifted, I can see, feel, love and grow and can now pass it on to my children. You're the BEST!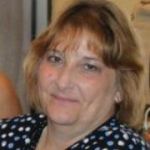 Pam Soliday

I've gone to training after training in my life. I've been to therapy I've been to everything. And nothing has been able to get me past the blockages that have kept me from being as successful as I want to be. And I've lived in the past for the last 50 years. In Lisa's class I was just blown away. I recommend the program for anyone who has had things in their life that they haven't been able to get rid of and they couldn't get past. She knows how to help you get past that. It's just really awesome.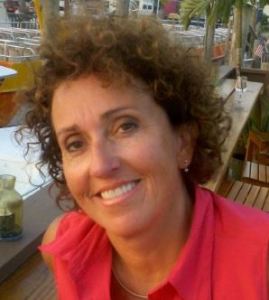 Cindy Sheridan Murphy

I have never felt so alive! Gaining clarity about my family & business goals has inspired me to take the actions I needed. Lisa's style offers inspiration and guidance without judgment. This was pivotal in helping me discover exactly who I am. It's the best thing I could have ever done.It has brought my business and me personally just 10x more than I could have.

Jessica Anderson

While I was successful in some parts of my life, I realized I needed to grow and change. I had some issues from the past to deal with and they were getting in the way of what I wanted for the future. Unlike a lot of self-help stuff that I have been through before, Lisa didn't focus on the old stories she allowed me to get rid of them in my life, create new ones and see myself the way I am now. This has been life changing. There's only so long that I can go on pretending that I believed I was good when I didn't. Now I know that I am a good person.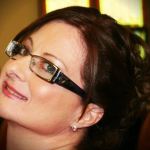 Diane Lane

This is Lisa D. Lieberman-Wang at her best as she takes you from where you are (fears and phobias) to where you want to be (strong and courageous).Let your transformational journey begin.... phenomenal!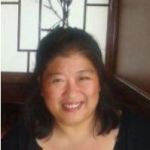 Heidi Hartley

Fine to FAB has given me a definite purpose as to what is most important to me, the ability to prioritize it and the tools to develop an action plan. Anybody that needs help would benefit from working with Lisa. This is absolutely a program that you need to look at and invest in yourself. We take care of our family and the people around us but the reality is if we don't work to take care of ourselves and do what's the best for us we can't do what's the best for somebody else. This is absolutely something that you need to look into so that you can be the best that you can be.

Karen Kremzar

I came to Lisa feeling "stuck" in a few areas of my life. I have been on a 20 year journey of healing and self-improvement, utilizing various conventional and non-conventional methods. I have stopped destructive eating, accomplished many goals and changed my thinking in many ways, yet I was still feeling stuck. The tools and guidance I received during Lisa's Fine to FAB class have transformed my life! My level of peace and contentment has multiplied. I have accomplished new goals and continue to move forward. . I incorporate the tools I learned into my life daily and teach them to my clients, children and friends."
Fine to Fab will teach you how to empower yourself
and learn new habits for a more fulfilling and happier life!
You will be equipped with the tools to:
Stop the anger, stress and anxiety
Stop feeling not good enough, out of control and trying to be perfect
Get rid of years of shame and blame from sexual abuse without years of therapy
End of your fears, insecurities and depression
Stop overeating, lose weight and keep it off
Feel better and love yourself